Tempest Showroom
Tempest for Eliza by Erik Thiele makes your computer monitor send out special radio signals so that you can then hear computer generated music in your radio.
Several years ago I developped a bootable floppy which includes everything in order to run Tempest for Eliza on every PC. Because people still keep asking me about the software and floppies are quite obsolete these days, I finally have rebuilt everything from scratch and created an easy to use CD-ROM version.
Download
Download the zipped CD-ROM image here:
Usage
Just unzip the ISO file und burn it to CD-ROM (look here if you need instructions) and boot your PC from it. Or use virtualization software such as QEMU, VMware or VirtualPC.
Using the software itself should be easy:
Put a radio in front of your PC
Dial 1500kHz (AM)
Press <p> and <Enter> to start the program
You should see black and white patterns on screen and hear "Für Elise" by Ludwig van Beethoven on your radio.
Learning more
Markus Kuhn has done a lot of interesting research about TEMPEST. Maybe some of his publications will be useful to understand the technical details and the security implications:
Rebuilding from source
This collection is free/open source software under the GNU GPL, so feel free to distribute or modify it.
Tempest Showroom is easily customizable: My build scripts are included in the /develop folder on the CD-ROM. Just extract the .tar.gz archive and see the README.txt file for detailed instructions.
If you have any comments or suggestions write to: mail at dirk-loss de.
Screenshots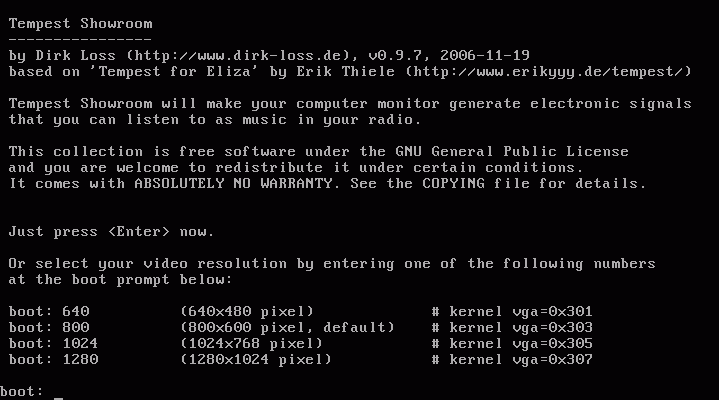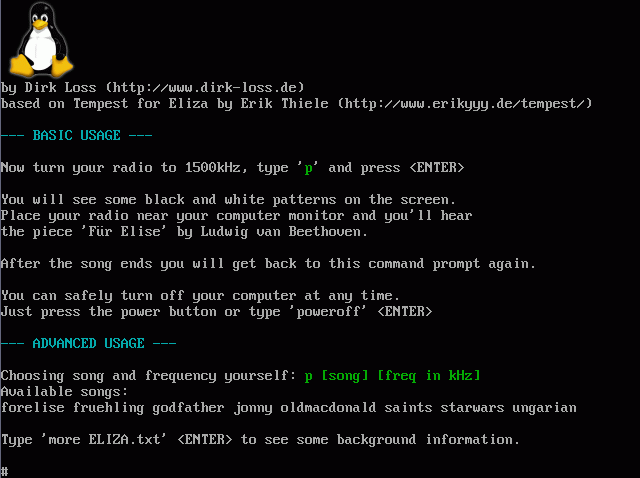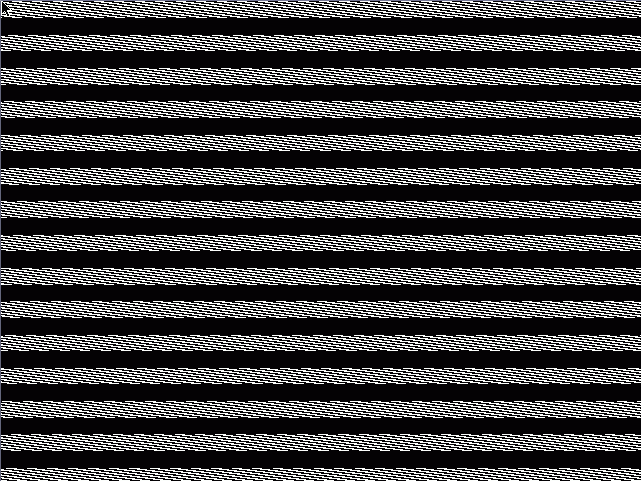 © 2006 Dirk Loss - Last Changed: 2006-11-19